The tavern is the main menu of the Heroes vs. Monsters game. It can be accessed from most game modes by pressing the "home" button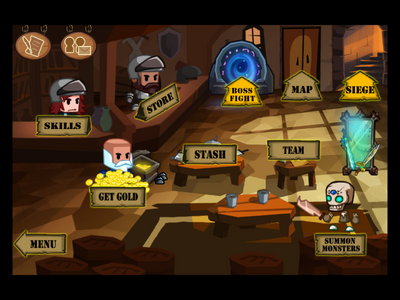 in the upper left hand corner.
Game Modes Accessible from the Tavern
Four of the six game modes can be accessed from the tavern: Boss Fight, Game Map, Siege Mode, and Arena.
Notes:
The Arena mirror only appears once the player has beaten the second boss, The Iron Golem, so that the arena is no longer hidden in shadow on the Game Map. 
Areas Accessible from the Tavern 
In addition, The Stash, Team, Skills, the Store and Summon monsters can also be accessed from the tavern. Legendary Heroes can be bought at the tavern. The gold store can also be accessed from the Tavern menu, where in-app purchases can be made.
Ad blocker interference detected!
Wikia is a free-to-use site that makes money from advertising. We have a modified experience for viewers using ad blockers

Wikia is not accessible if you've made further modifications. Remove the custom ad blocker rule(s) and the page will load as expected.