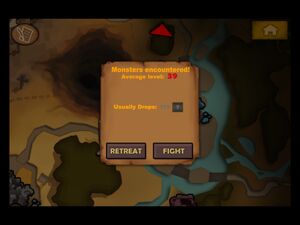 Write the first paragraph of your page here.
As you walk around on the map you would meet groups of monster in the way as seen in the picture. Now what some people may not realize is that the higher the average level of the monsters does not mean that you would receive more gold and points when you defeat them. So below is a list of the amount of rewards you will receive when you face different levels.
Write the first section of your page here.
List of level rewards:
Level 40: Gold 2540,Points 3105
Level 44: Gold 2345,Points 2485
Level 45: Gold 1710,Points 2488
Write the second section of your page here.
Ad blocker interference detected!
Wikia is a free-to-use site that makes money from advertising. We have a modified experience for viewers using ad blockers

Wikia is not accessible if you've made further modifications. Remove the custom ad blocker rule(s) and the page will load as expected.